Description
Turkey and Duck Sticks  8 Oz
Crunchy sticks
•  Here are some crunchy sticks of Turkey and Duck jerky that are sure to please.
•  A great taste combination.
•  So many dogs were bred as hunting dogs and bringing back the duck is instinctive.
•  Duck has a unique taste they never forget.
•  We have had so many requests for a USA Duck product… here it is!
Breaks apart easily
•  These sticks break apart easily into smaller pieces.
•  Duck is a common protein ingredient in hypoallergenic dog foods; it is easier to digest than chicken for many dogs.
•  Made in the USA of course.
•  Not for dogs less than 5 lbs.
•  Samples available for your dog's tasting.
$5 Shipping – orders over $75 ship Free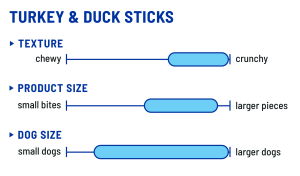 Additional information

Feed as a treat only. Always provide supervision and drinking water.
Feeding Instructions: dogs to 5-20 lbs 2 pieces a day, dogs to 25-40 lbs 4 pieces, more than 40 lbs 6 pieces.
Ingredients: Turkey, Duck, and sweet potato
GUARANTEED ANALYSIS:
Crude Protein (min) . . . . .70%
Crude Fat (min) . . . . . . . .  5%
Crude Fiber (max) . . . . . . 8%
Moisture (max) . . . . . . . . 10%