Description
Beef Heart Jerky
Beef Jerky Treats for Dogs
6 Oz and 12 Oz 
A single ingredient product
•  A single ingredients product
•  A nutritious beef jerky treat for medium and large dogs
•  USA sourced, processed and packed
Nutrient-rich
•  Rich in vitamin B, iron, minerals, and zinc for your dog
•  A great supplement for their diet and tasty too
•  A great USA Beef Jerky for dogs, tasty and chewy
•  Let your dogs know they are loved
•  Not for dogs less than 10 pounds.
•  Please see our other treats specifically for small dogs Bits-O-Chips, Mini-Chicken Chews, Mini Duck Bites
•  Samples available for your dog's tasting.
•  Made in the USA since 2007.  Naturally made with no artificial preservatives, colors, dies, or flavoring. Sourced, processed, and packed in the USA
• Buy a case and get 5% off plus free shipping
$5 Shipping – orders over $59 ship Free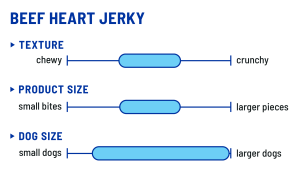 Additional information

Feed as a treat only. Always provide supervision and drinking water.
Feeding Instructions: Medium dogs to 10- 25 lbs 2 pieces a day,
dogs 25-40 lbs 4 pieces a day, more than 50 lbs 6 pieces.
Ingredients: Beef heart
Guaranteed Analysis:
Min Crude Protein……….60%
Min Crude Fat…………….15%
Crude Fiber………………..3%
Max Moisture……….……18%
Calorie Content (calculated)(ME):
2,434 kcal/kg: approx 42 kcal per  treat