Description
Bits-O-Chips™ 
Small pieces Chicken Jerky 
Jerky Dog Treats 8 Oz
The Small Dog's Favorite
• Small pieces for smaller dogs
• These chips start with the same great 100% USDA chicken but didn't make it to the big time.
• Packed full of fun and flavor, these bite-sized pieces are perfect for puppies, smaller breeds, training routines, or for that "fowl" dog who always comes beggin'.
• Add to your order of regular Kona's Chips for a barking' bonus.
• Perfectly sized at eight ounces and at a price that you and your dog will yap for.
Naturally made
• All natural and healthy chicken jerky strips for dogs made from 100% USDA chicken breast.
• Let your dogs know that they are loved!
• Samples available for your dog's tasting.
• Made for the Small Dog in mind.
• Not for dogs less than 5 lbs
$5 Shipping – orders over $59 ship Free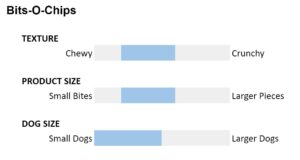 Additional information
Ingredients: Chicken, vegetable glycerin, sea salt, celery powder
Feed as a treat only. Always provide supervision and drinking water.
Feeding Instructions: Dogs 5-25 lbs 2 pieces a day,
more than 25 lbs 4 pieces a day.
Guaranteed Analysis:
Min Crude Protein……79.1%
Min Crude Fat………..9.1%
Crude Fiber…………. 0.1%
Max Moisture……….16.9%
Calories 2,999 KCal/Kg – 85 kcal/ oz
85 Calories per ounce