Description
Chicken Tuffies ™ 
Chicken Jerky Dog Treats  12 Oz
A chicken jerky with  a longer tougher chew
•  Just like Kona's Chips classic chicken jerky, this jerky is made from 100% USDA chicken breast, but thick and tougher for a longer chew
•  Chicken Tuffies provide more gnawing pleasure for the dog who wants his jerky to last a little longer
•  Great for a Longer chew, and fully digestible
•  Check out Chicken Tuffies for a great protein snack in between meals
For medium and large dogs 
•  This is an all-natural and healthy treat for your best friend to enjoy!
•  For Medium to Large Dogs. Not for dogs less than 10 lbs.
•  Please see our other treats specifically for small dogs Bits-O-Chips, Mini-Chicken Chews
•  Samples available for your dog's tasting.
None of our products require refrigeration
Simply store at room temperature.
$5 Shipping – orders over $75 ship Free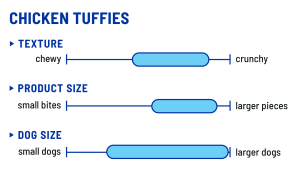 Additional information

Feed as a treat only. Provide supervision and drinking water.
Feeding Instructions: Dogs 10-25 lbs 2 pieces a day,
more than 25-40 lbs 4 pieces a day, dogs more than 40 lbs 6 pieces a day
Ingredients: Chicken, vegetable glycerin, sea salt, celery powder
Guaranteed Analysis:
Min Crude Protein…..79.3%
Min Crude Fat………. 9.1%
Crude Fiber…………..0.1%
Max Moisture………. 16.9%
Calorie Content (calculated)(ME):
2999 kcal/kg or 42 kcal per 1/2 oz treat