Description
Kona's Chips Premium Chicken Jerky Dog Treats
4 oz , 8 oz , 12 oz, and 16 Oz Breeders Special™ 
Our Top Seller since 2007
Premium Sliced Chicken Breast Jerky Dog treats
•  Our premium chicken jerky for dogs
•  Comes in multiple sizes, from a trial size to a 1 lb bag
•  The 1 pound pack contains the same product as the other sizes but has the best price break.
•  Contains more chips so that larger dogs can get in on the fun too.
•  Give your dog a treat they will go crazy over
•  A great in-between meal snack or nutritious treat for the traveling dog.
•  This chicken jerky for dogs comes in strips that vary in size and are breakable
USA sourced, processed, and packed
•  This USA-sourced, processed, and packed chicken jerky is perfect for breeders, dog trainers, grooming salons, or for those with several dogs.
•  Chicken jerky made in the USA only, and that is roasted to perfection
•  Your best friend will thank you and follow you around the house for more
•  It's the real deal, just ask your dog
•  Dogs tell us all the time that this flavor-rich treat comes close to perfection.
Naturally made
•  All natural and healthy chicken jerky strips for dogs made from 100% USA chicken breast.
•  For Medium and Large dogs over 10 lbs
•  Please see our other treats specifically for small dogs Bits-O-Chips, Mini-Chicken Chews, Mini Duck Bites
•  Bits-O-Chips are a favorite with small dogs, it is the same chicken jerky but smaller pieces.
•  Made in the USA since 2007.  Naturally made with no artificial preservatives, colors, dies, or flavoring. Sourced, processed, and packed in the USA
•  Samples available for your dog's tasting
•  $5 Shipping – orders over $59 ship Free
• Buy a case and get 5% off plus free shipping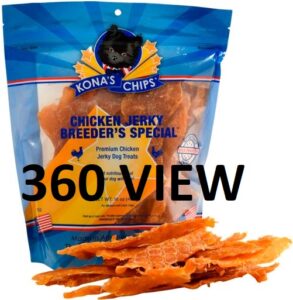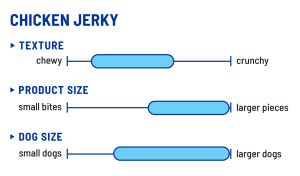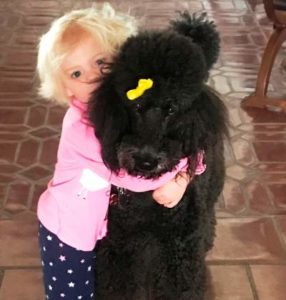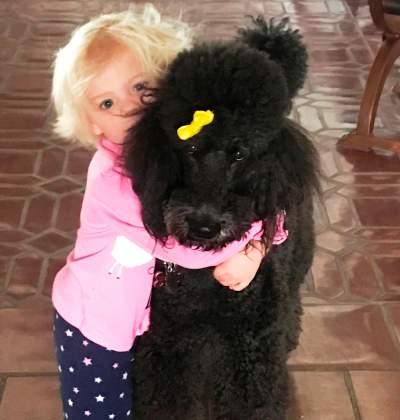 Anson with a bow
I want you to know that I am completely impressed by the level of customer service provided by your company!
You have a customer for as long as I have dogs, which I plan to have for a lifetime.
I will spread the word amongst fellow pet owners in my community.
Thank you for running such a quality company, both in your products and in the way you treat your customer.
Kudos!
Sincerely    Ginger – Texas
Additional information

Feed as a treat only. Always provide supervision and drinking water.
Feeding Instructions: Dogs 10-25 lbs 2 pieces a day,
more than 25-40 lbs 4 pieces a day, dogs more than 40 lbs 6 pieces a day
Ingredients: Chicken, vegetable glycerin, sea salt, celery powder
Guaranteed Analysis:
Min Crude Protein…..79.3%
Min Crude Fat………. 9.1%
Crude Fiber…………..0.1%
Max Moisture………. 16.9%
Calorie Content (calculated)(ME):
2999 kcal/kg or 42 kcal per 1/2 oz treat