Description
Chicken and Sweet Potato Jerky™ 
Chicken Jerky with Sweet Potato
4 oz , 8 oz and 16 oz
Dog's love the taste of sweet potato
• New Improved Chicken and Sweet Potato Jerky – Moister, chewier, and stays fresh longer.
• This amazing pairing of chicken and sweet potato may require a cupboard to hide this treat.
• Don't worry when your dog is following you around the house, he is just looking for where you put his Chicken and Sweet Potato Jerky.
Nutrient-Rich
• Sweet potatoes are packed with plenty of health benefits.
• They offer nutrients, vitamins, and cancer-fighting antioxidants that promote canine health.
• Rich in Amino Acids that boost antioxidant activity to rid the body of free radicals, which can help fight cancer and other harmful diseases.
• They are a high-fiber, heart-healthy treat for your dog.
• Naturally high in Beta-carotene, Vitamin A, Vitamin C, and Potassium.
Naturally Made Healthy Treat
• Give your dog healthy tasty treats
• You know how you feel after eating junk food all week
• 9 out of 10 dogs agree that they feel better after a healthy tasty snack
• We have heard stories that they are happier, they bark less, they get your slippers more often, and are more cuddly. Some have even privately confessed that they have stopped chasing the neighbor's cat.
•  Made in the USA since 2007.  Naturally made with no artificial preservatives, colors, dies, or flavoring. Sourced, processed, and packed in the USA
• Not for dogs less than 7 pounds
• Samples available for your dog's tasting.
• $5 Shipping – orders over $75 ship Free
• Buy a case and get 3% off plus free shipping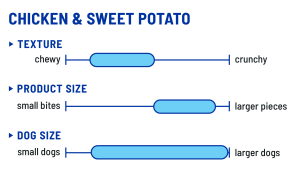 Additional Information
Feed as a treat only. Always provide supervision and drinking water.
Feeding Instructions: Small dogs 7 to 10 lbs 1 piece, medium dogs to 25 lbs
2 pieces a day, 25-40 lbs 4 pieces, dogs more than 40 lbs 6 pieces a day.
Ingredients: Chicken, sweet potato, vegetable glycerin, rosemary extract
Guaranteed Analysis:
Min Crude Protein…..50%
Min Crude Fat…………2%
Crude Fiber…………..1.5%
Max Moisture………..24%
Calorie Content (calculated)(ME):
3000 kcal/kg or approx 30 kcal per  treat
Ingredients so simple even your dog can read them