Description
Chicken and Sweet Potato Jerky™ 
Chicken Jerky with Sweet Potato
4 oz , 8 oz and 16 oz
Dog's love the taste of sweet potato
• This amazing pairing of chicken and sweet potato may require a cupboard to hide this treat.
• Don't worry when your dog is following you around the house, he is just looking for where you put his Chicken and Sweet Potato Jerky.
Nutrient-Rich
• Sweet potatoes are packed with plenty of health benefits.
• They offer nutrients, vitamins, and cancer-fighting antioxidants that promote canine health.
• Rich in Amino Acids that boost antioxidant activity to rid the body of free radicals, which can help fight cancer and other harmful diseases.
• They are a high fiber, heart-healthy treat for your dog.
• Naturally high in Beta-carotene, Vitamin A, Vitamin C, and Potassium.
Naturally Made
• A natural product that has some color variation but the same great taste
• Not for dogs less than 7 pounds
• Samples available for your dog's tasting.
• $5 Shipping – orders over $59 ship Free
• Buy a case and get 5% off plus free shipping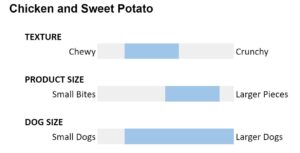 Additional Information


Feed as a treat only. Always provide supervision and drinking water.
Feeding Instructions: Small dogs 7 to 10 lbs 1 piece, medium dogs to 25 lbs
2 pieces a day, 25-40 lbs 4 pieces, dogs more than 40 lbs 6 pieces a day.
Ingredients: Chicken, sweet potato, rice flour,
vegetable glycerin, potassium sorbate, vinegar powder
Guaranteed Analysis:
Min Crude Protein….31%
Min Crude Fat…………1.8%
Crude Fiber……………..1%
Max Moisture…………13%
Calorie Content (calculated)(ME):
3500 kcal/kg or 69 kcal per  treat